Compu-Trainer Classes
by
Bob Dominski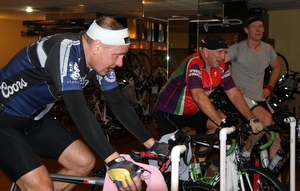 Those of you that are looking to maintain, or even improve on their cycling conditioning during the winter months, need look no further than to the indoor Compu-trainer workouts. The workouts, usually hosted by Tom Wilson, are provided by Village Cycle Sports on 1326 N. Rand Road in Arlington Heights (click here for map) on Wednesday mornings. You enter the side door of the shop after 11:15am, bringing your bike with a trainer skewer (can be bought at the shop), towel, water, snacks, etc. The Compu-trainers are located in the basement of the shop.
The computer simulated ride is around 20 miles with a some climbing and a maximum grade of 2.0%. It sounds like a relatively easy course, but it is quite challenging since there is no coasting at all. The cost for Wheeling Wheelmen members is $15.
There are 17 Compu-trainer stations available for use (9 in the front row, and 8 in the back row). Each Compu-trainer station must be calibrated after a 10 minute warmup, but the calibration procedure itself goes very quickly. The computer then controls the load on the rear wheel, varying the resistance depending on whether climbing, descending or level. Even the weight of the rider is used to vary the resistence! Data of each cyclist participating is viewed on a large TV screen, 8 or 9 cyclists per screen allowing you to 'compete' with fellow bikers. Upbeat music usually accompanies the riders.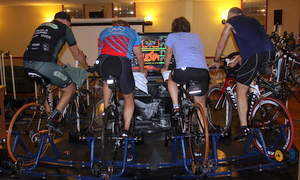 Turnout so far has been in the 3 to 10 range, so there is always room for additional 'victims'. The workouts finish up about 1:00pm/1:15pm, and everyone is usually cleared out by 1:30pm. There are bath room facilities, but no showers. There are however two changing closets available.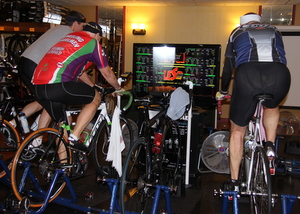 At the conclusion of the ride your performance output is automatically sent to your e-mail address. Data includes: elapsed time, average and max; power, cadence, speed and much, much more. Some data are presented graphically, and is very interesting.
The camaraderie after the ride adds to the experience. So, stop by, give it a try. Some love it, some hate it, but, for sure, regular Compu-trainer workouts will keep you in shape for the upcoming biking season, and it feels so darn good when it is over!