The Wheeling Wheelmen Bicycle Club - founded by Phyllis Harmon, had its first meeting on April 26, 1970 with over 100 members in attendance. Since that time, the club has grown to almost 300 men and women serving the Northwest Chicagoland area with organized rides, social outings, informative meetings, bicycle advocacy, and a lot of friendship.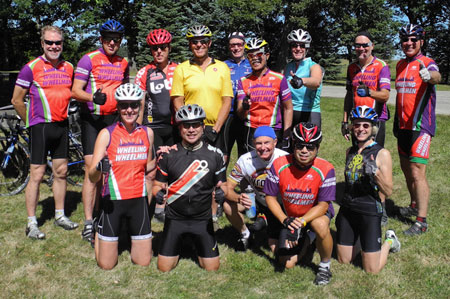 Let's Go for a Ride! - Club rides are a good way to improve your bicycling knowledge, skills and fitness. They provide fun and camaraderie with greater visibility and safety on the road. Click here for more information about club rides.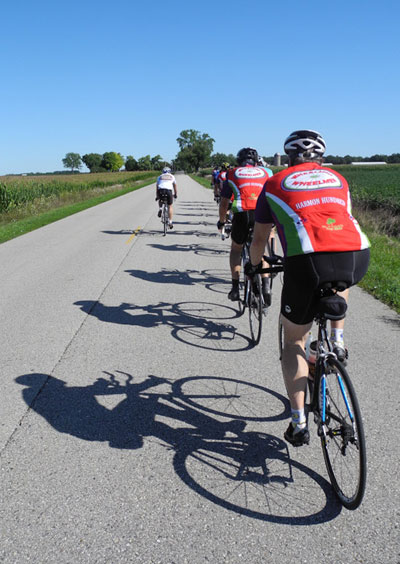 Social Activities - We have club meetings on the first Thursday of designated months where we often host programs to enhance our cycling knowledge. In addition, our members get together for an annual club picnic, banquet and holiday party. Throughout the winter we stay active with mountain biking, Cross Country skiing and hiking.
You don't have to be a member to try a club ride or attend a club meeting. Check out the Club Rides link and come out and join us. If you have questions, please don't hesitate to Contact Us or check us on Facebook (see link in header).
The club has a Constitution and maintains this website, a Groups.io Group and a Newsletter with information about club activities.
Membership registration is available here.
Below are some published articles that help describe what we are all about:
The history of the Wheeling Wheelmen and the Harmon Hundred - from Chicago Athlete, September 2002
An article about the Wheeling Wheelmen - from the Daily Herald, July 1998
See how the club gives back to the community
We are honored to have as our club founder, Phyllis Harmon, who single-handedly nurtured America's national bicycle organization, the League of American Bicyclists.
---
Additional information about Phyllis Harmon's contribution to our country's bicycling culture can be found in the articles below:
Information about club founder Phyllis Harmon - from League of American Bicyclists - Summer 2003
Article about Phyllis Harmon's selection as one of 25 most influential people in American bicycling - Fall of 2005
Information about Phyllis Harmon's induction into U.S. Bicycling Hall of Fame - November 2009
A chat with the grande dame of Chicago bicycling
Information about women's bike history - Phyllis Harmon - September 2013
Information about the Village of Wheeling's dedication of the Phyllis Harmon Path - September 2013
Phylis Harmon's Obituary - August 2016