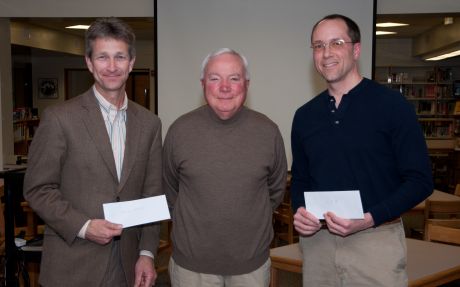 Wheeling Wheelmen President Joe Beemster giving contributions
to Ride Illinois and Active Transportation Alliance
The Wheeling Wheelmen were honored to present two advocates of safe bicycling and walking in the State and Chicagoland. Ed Barsotti is the Executive Director of Ride Illinois. Ed spoke about The League's actions in working with the State in allocating dollars from the Transporation budget to provide safe areas for bicyclists to ride in lieu of driving automobiles. Several projects were reviewed offering riders lanes and trails throughout the State and publishing numerous guides on safe riding skills and other related subjects.
Ron Burke, Executive Director of the Active Transportation Alliance, spoke about their efforts to build a safe network of streets and trails and grow the movement of bicycle, pedestrian and transit users in all neighborhoods in Chicagoland.
Breakdown of 2018 Donations
Ride Illinois

$1,500.00

Active Transportation Alliance

$1,000.00

League of American Bicyclists

$1,000.00

Wisconsin Bike Federation

$500.00

Toys for Tots

$300.00

Working Bikes

$250.00